Syracuse Rose Society Archives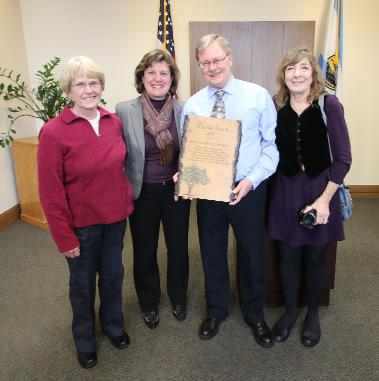 On Feb. 14, 2016, the Syracuse Rose Society and Miranda Hine of the Thornden Park Association each received the Guardian Award from the Syracuse Parks Conservancy. The award was presented in Mayor Stephanie Miner's office by Chris Wiles of the Syracuse Parks Conservancy and the Mayor.
SRS president David Rink received the award for SRS in recognition of our dedicated, hard-working volunteers who have given so much to make the Dr. E. M. Mills Garden a beautiful rose garden enjoyed by the public and visitors to the Syracuse area. Fellow society members Deborah Holihan, Corresponding Secretary, and Mary Pat McHale, Membership Chair, were there in support.
In 2016, some 41 volunteers contributed more than 2,100 hours of labor in total and the garden looked great all season long.
Planting roses in the snow!
Despite some challenging conditions, SRS members Jim Wagner and Carl Grillo added some new bushes in the snow