Founded in 1911, the Syracuse Rose Society is a non-profit organization dedicated to promote, educate and celebrate the world of roses.
In addition to monthly meetings and overseeing the care of the E.M. Mills Rose Garden, the Syracuse Rose Society also sponsors and hosts rose-related events for the community.
Would you like to volunteer at the Mills Rose Garden? Volunteers maintain the garden every Wednesday morning from April until November. Volunteers are welcome to come to the garden and help between 8 a.m. and noon on Wednesdays. No gardening experience is necessary!
SRS Meetings
The Syracuse Rose Society meets monthly on the second Thursday of every month. All regular meetings are held at 7 p.m. at the Reformed Church (unless otherwise noted) The Church is located at the corner of Melrose and Teall Ave (one block south of James St. in Syracuse). Upcoming meetings:
June 13, 2019 Regular Meeting at the Reformed Church 7 p.m.
July 11, 2019 Regular Meeting *E.M. Mills Garden at Thornden Park* 6:30 p.m.
August 8, 2019 Regular Meeting at the Reformed Church 7 p.m.
SYRACUSE ROSE SOCIETY ROSE FAIR
SRS Rose Fair
Interested in learning more about roses? Each year, the Syracuse Rose Society hosts a Rose Fair in April. The event is organized by Jim Kahler and Mary Pat McHale. Admission is free.
Visitors can learn about every aspect of growing beautiful roses from knowledgeable members of the Syracuse Rose Society. Exhibits and "hands-on" demonstrations will cover a variety of topics pertaining to roses.
PHOTOS FROM THE 2019 ROSE FAIR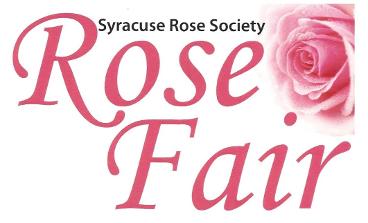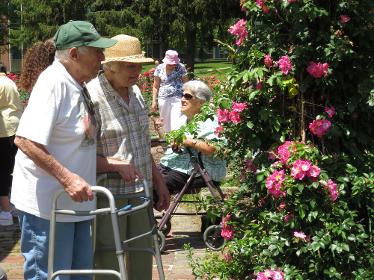 Rose Day !
The beauty and splendor of roses is celebrated annually in June on Rose Day at the E.M. Mills Memorial Rose Garden in Thornden Park. This year's Rose Day will be held June 27.The event is hosted by the Syracuse Department of Parks and Recreation and the Syracuse Rose Society.
The event is scheduled for June from noon to 3 p.m. Rose Day is free and open to the public. Rose and garden lovers of all ages stroll around the Mills Garden and enjoy hundreds of beautiful rose bushes in bloom. Stay tuned for this year's date.
SYRACUSE ROSE SOCIETY ROSE SHOW
The SRS Rose Show
The Syracuse Rose Society's annual Rose Show is held in June. The 2018 SRS Show will be June 23 at Destiny USA.Many members and non-members enter and display their roses and rose arrangements for ribbons and other awards.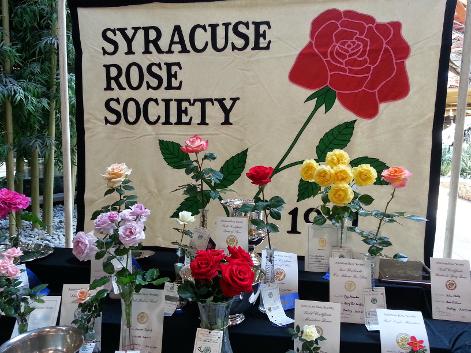 Other SRS Activities
The New York State Rose Show (August): Many SRS members exhibit and clerk at this annual show.
Go to the New York District website for more details. Click here
(Below) SRS member Dorothy Storms works on her rose entries at the 2015 New York State Fair.