Welcome to the Syracuse Rose Society website page!
The Syracuse Rose Society is the oldest rose society in continuous existence in the United States affiliated with the American Rose Society and the Canadian Rose Society. Founded in 1911, the Syracuse Rose Society is a non-profit organization dedicated to promote, educate and celebrate the world of roses.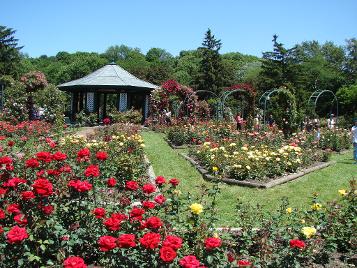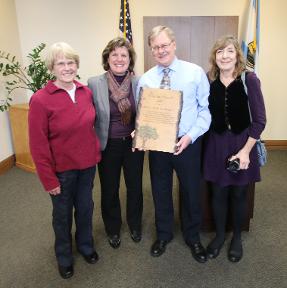 SRS earns Guardian Award
On Feb. 14, 2016, the Syracuse Rose Society and Miranda Hine of the Thornden Park Association each received the Guardian Award from the Syracuse Parks Conservancy. The award was presented in Mayor Stephanie Miner's office by Chris Wiles of the Syracuse Parks Conservancy and the Mayor.
SRS president David Rink received the award for SRS in recognition of our dedicated, hard-working volunteers who have given so much to make the Dr. E. M. Mills Garden a beautiful rose garden enjoyed by the public and visitors to the Syracuse area. Fellow society members Deborah Holihan, Corresponding Secretary, and Mary Pat McHale, Membership Chair, were there in support.
In 2016, some 41 volunteers contributed more than 2,100 hours of labor in total and the garden looked great all season long.

For the latest SRS news, photos and more go to our Facebook Page.
Get social with the SRS onf Facebook!
For rose-related questions or information, contact the Syracuse Rose Society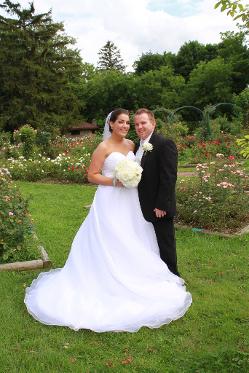 WEDDING PHOTOS AT THE GARDEN
The Mills Rose Garden is one of the prime locations in Syracuse for outdoor events including summer wedding photos. The Mills Rose Garden was named Best Wedding Photo Spot in the "The Best of Syracuse" Syracuse New Times annual poll.
But did you know a city permit is needed to reserve the park? Here's a link with more information:
Rose Day at the Mills Garden
Visitors of all ages came to see all the lovely roses in full bloom at the Mills Rose Garden at Thornden Park on Rose Day on June 15. This event was co-hosted by the SRS and the City of Syracuse Parks and Rec Department.
Rose Day received great publicity (thanks to Pam Dooling) on CNYCentral, NewsChannel 9 and Syracuse.com.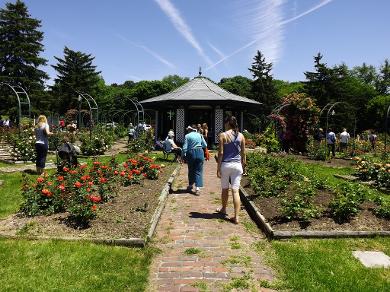 Do you have a rose question? We're here to help!
Here's a list of Consulting Rosarians who are available to answer your rose related questions.
Baldwinsville ..........David Rink-- 315-652-9145-- rink4roses@hotmail.com
Baldwinsville ..........Mary Ann Rink -- 315-652-9145 -- rink4roses@hotmail.com
Brewerton ...............Murial Prianti -- 315-676-4850 -- mrprianti@aol.com
Cleveland ..............Darlene Lowell -- 315-741-1985 -- darmaried58@gmail.com
Fayetteville .............Jim Wagner -- 315-637-6276 -- jimdoriswagn@aol.com
Little Falls...............Jim Kahler -- 315-823-3878 -- jimkbear@yahoo.com
Liverpool.................Dan Magaro – 315-457-4351
Liverpool.................David Stever -- 315-457-4729 -- greenrosedave@aol.com
Manlius ..................Ann Gibson -- 315-682-9688 -- ambushe@yahoo.com
Manlius...................Joe Gibson -- 315-682-9688 -- ambushe@yahoo.com
Skaneateles ...........Pat Pohl -- 315-685-0114 -- patriciampohl@gmail.com
Syracuse/East .........Dorothy White -- 445-1381
Syracuse/East .........Pam Dooling -- 315-463-0831 -- jhdpad@twcny.rr.com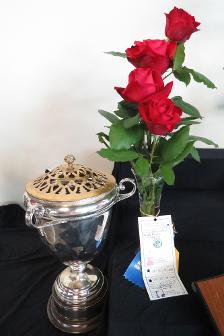 The SRS Rose Show
Exhibitors of all levels participated in the 97th annual Syracuse Rose Society's Rose Show on June 18 at Destiny USA.
Awards and ribbons were handed out in a number of categories. SRS member Erik Heden won both Queen and King of Show. Congrats to all ribbon winners!